Driving Success through Customer Engagement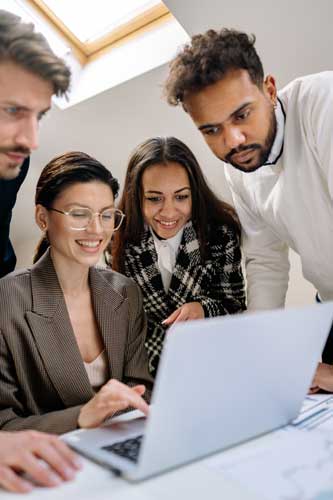 Inbound telemarketing is a powerful strategy that allows businesses to engage with their customers directly, build relationships, and drive sales. By leveraging the telephone as a communication channel, businesses can attract and convert leads, provide exceptional customer service, and generate valuable insights into customer preferences and needs. Let's explore how inbound telemarketing can help your business thrive.
Enhancing Customer Engagement: Inbound telemarketing enables businesses to establish direct, personal connections with their customers. By offering a dedicated phone line or customer service hotline, businesses can encourage customers to reach out with inquiries, requests, or feedback. This open line of communication fosters a sense of trust and loyalty, making customers feel valued and heard.
Lead Generation and Conversion: Inbound telemarketing serves as a powerful tool for lead generation and conversion. By utilizing targeted marketing campaigns and strategically designed scripts, businesses can attract potential customers who have expressed interest in their products or services. Skilled telemarketing agents can engage prospects in meaningful conversations, understand their needs, and provide tailored solutions, ultimately increasing the chances of lead conversion and sales.
Upselling and Cross-Selling Opportunities: Inbound telemarketing also presents an opportunity for businesses to upsell or cross-sell to existing customers. By proactively reaching out to customers who have previously made purchases, businesses can offer complementary products or upgrades, providing added value and generating additional revenue streams. This approach not only boosts sales but also strengthens customer relationships and loyalty.
Proactive Customer Service: Inbound telemarketing is a valuable customer service channel, allowing businesses to provide proactive support and address customer concerns in real-time. By promptly answering incoming calls, businesses can resolve issues, provide product information, offer troubleshooting assistance, and ensure a positive customer experience. Effective customer service through inbound telemarketing leads to improved customer satisfaction, retention, and positive word-of-mouth.
Gathering Customer Insights: Each interaction in inbound telemarketing presents an opportunity to gather valuable customer insights. Skilled agents can engage customers in conversations that uncover their preferences, pain points, and feedback. This data can be leveraged to refine marketing strategies, improve product offerings, and enhance overall customer experience. By actively listening to customers and documenting their feedback, businesses can make data-driven decisions to better serve their target audience.
Flexibility and Scalability: Inbound telemarketing offers businesses flexibility and scalability. Outsourcing to a specialized call center, such as Performance Calling, allows businesses to tap into a trained team of telemarketing professionals who can handle high call volumes, ensuring prompt and efficient customer service. This scalability enables businesses to manage fluctuations in call volume based on demand, without the need to invest in additional resources or infrastructure.
Measurable Results and ROI: Inbound telemarketing provides businesses with measurable results and a clear return on investment (ROI). Key performance indicators (KPIs) such as call volume, conversion rates, average handling time, and customer satisfaction can be tracked and analyzed. This data-driven approach allows businesses to evaluate the effectiveness of their telemarketing campaigns, make informed adjustments, and optimize their strategies for better results.
In today's competitive business landscape, inbound telemarketing plays a vital role in customer acquisition, retention, and revenue growth. By leveraging the power of direct customer engagement, businesses can build stronger relationships, provide exceptional customer experiences, and drive success. Whether you choose to establish an in-house call center or partner with a trusted telemarketing service provider like Performance Calling, inbound telemarketing can be a game-changer for your business. Embrace the opportunities it presents, and unlock the full potential of your customer interactions.